Preparation for SAP S/4HANA 10-point checklist
Are you responsible for the implementation of SAP S/4HANA in your company? Read here which aspects play a central role in every project and require special attention.
1. Understanding and getting to know SAP S/4HANA
End-to-end processes in real time. The Cloud and the Fiori Apps. The new user experience. The best practices. New technologies like machine learning. With SAP S/4HANA, everything is somehow different. From the surface to deep into the system architecture.
If you are now planning to switch to SAP S/4HANA, then you first need to get to know this world. And understand that this is not just a technical upgrade, but a profound change - a change that will make your company ready and fit for the future.
So find out all you can about SAP S/4HANA: take advantage of possible training courses and events, SAP's use cases or even a tool like Business Scenario Recommendations - a tool that shows you the benefits of SAP S/4HANA based on your transactions without much effort.
2. Create awareness in the company and find partners
IT alone cannot handle the change to SAP S/4HANA for a company. In a project of this magnitude and strategic importance, many stakeholders must be involved, from management to the specialist departments.
The success of such a project depends largely on whether all those involved are aware of the advantages and opportunities of the change to SAP S/4HANA. Those responsible for IT and the project must therefore take care in good time to involve top management closely and at an early stage, to publicise the topic in the company and to be clear about the operational and strategic goals associated with the implementation.
So, for example, think in good time about which employees are to play a role in the project internally and what capacities are available to you. In addition, you should consider how you will communicate the project, how you will design the change and which external partner can support you.
3. Check technical requirements and implement preliminary projects
He who wants to reap much must prepare the ground well. And so it is here, with the introduction of SAP S/4HANA. If you are planning a system conversion - i.e. a technical 1:1 migration of your existing system - you can first check the technical and process-related prerequisites of your system with the SAP Readiness Check.
The Simplification List, for example, provides information about the detailed differences between SAP ECC and SAP S/HANA. Within the framework of preliminary projects, you can also already carry out the necessary conversion to Unicode and a possible master data reorganisation.
Now is also a good time to take care of the customer-vendor integration, i.e. the conversion of customer and supplier data to the new data object business partner. Also check whether now is the right moment to switch to the new general ledger (SAP New GL). If no additional ledgers are required for reporting (IFRS, tax, US GAAP, etc.), the changeover can also take place during the system conversion.
4. Learn about migration pathways and consider the consequences of choice
Those who decide in favour of a system conversion or a selective migration - and thus against a new implementation - must know and consider the consequences of this decision in detail. The choice of the appropriate migration strategy is more than the choice of a technical methodology for conversion. Nor is it a question of costs alone. Rather, it is a far-reaching strategic decision and thus decisive for the future success of your company.
For example, if you want to take advantage of best-practice standards and strive for an SAP architecture without legacy issues, you can only achieve this through Greenfield. The same applies: even a system converted according to the brownfield approach can still be optimised later ("brownfield +"), but the path to a modern architecture is only possible subsequently with a great deal of effort even after this approach.
So take a close look at the options for conversion. The decision will depend on your strategic and operational goals and the results of your preliminary roadmap project.
5. On-premise or Cloud?
There are many reasons for or against a particular deployment model - in other words, deciding where to run your SAP S/4HANA system. Many companies still prefer to install their SAP solution on-site in their own data centre, often because of security concerns compared to a cloud solution from a hyperscale provider or operator.
Others are leaning towards a cloud solution because they want to reap the huge benefits of this operating model - from lower total cost of ownership and greater flexibility to faster access to SAP innovations. In addition, they know that the security of cloud solutions today is often even higher than that of a self-operated and self-maintainable on-premise system.
Therefore, deal with the advantages and disadvantages of the different scenarios in detail and at an early stage. Perhaps a hybrid model is the right path for you? Here, too, a roadmap pre-project provides the appropriate answers.
6. Mind and plan change management
The enormous changes that the introduction of SAP S/4HANA brings with it are often underestimated. As a result, companies identify inadequate change management as a "stumbling block" in many projects. To accompany the change professionally, to prepare the organisation well, to build trust and to show perspectives of the new technology - these are all central aspects of a successful change management process.
The use of contemporary media in particular has proven helpful and supportive in many projects: from live communities and online tutorials to videos and training courses. The crucial point is: the essential impulses for a professional change management process must be set at the very beginning. Such a process affects all project phases - and is not exhausted by a few user trainings at the end.
7. Get to know technologies and new ways of working
There are many innovations associated with SAP S/4HANA - from best practices to end-to-end processes, from the new user interface and user experience SAP Fiori to new tools such as the SAP Extensibility Framework and RESTful ABAP, from the Business Technology Platform to SAP Activate.
Find out about the new aspects of the architecture, technologies, the new tools and methods in the run-up to your project. Get appropriate advice. And make sure that all those involved - from top management to key users - get to know and understand the relevant innovations and special features of SAP S/4HANA at an early stage.
8. Better understand and optimise business processes
With the acquisition of Signavio at the beginning of 2021, SAP has massively strengthened the area of Business Process Intelligence. In this way, SAP can now even better help companies to understand their own business processes more precisely, to evaluate them in order to then be able to optimise and transform them.
Take advantage of these opportunities as part of the implementation of SAP S/4HANA and find out more about SAP's new solutions. The optimisation (or redefinition) of individual business processes is a very central success factor in the context of the implementation.
The best possible processes make companies faster, more flexible and therefore more competitive - and also help them to serve their own customers even better. Incidentally, under SAP S/4HANA, many of the central business processes already run as standard - end-to-end and in real time.
9. Modern project management
The introduction of SAP S/4HANA is often a highly complex project lasting several months - from planning and preparation to technical implementation and acceptance. Against this background, it is essential to minimise the risks of such a project, to keep the project duration and costs within the set limits and to secure the investment permanently.
Find out how a suitable process model and up-to-date project management can help to lead your project to success - starting with the choice of suitable role concepts and professional capacity planning to the use of project and collaboration tools such as Microsoft Sharepoint, Microsoft OneNote, MS Teams, Skype for Business or even solutions such as Solution Manager or Cloud ALM.
Even comprehensive projects such as the introduction of SAP S/4HANA can be implemented completely remotely today, if this is desired.
10. Finding the right path - the SAP S/4HANA Roadmap
Before conversion or re-implementation starts, you need a plan. With a suitable roadmap programme, you pave the way for your project. Within the framework of this, you clarify together with a partner, for example, what a target landscape that fits your requirements looks like or which changeover scenario best suits your company and your goals. You carry out pre-checks and a fit/gap analysis, deal with the simplification list, analyse your custom code with the ABAP Test Cockpit and get to know SAP S/4HANA in a sandbox system.
It is crucial in this phase not to lose sight of the strategic and operational goals of your company and to also record these goals with the help of strategy interviews and let them flow into the further work. Business and technology belong together!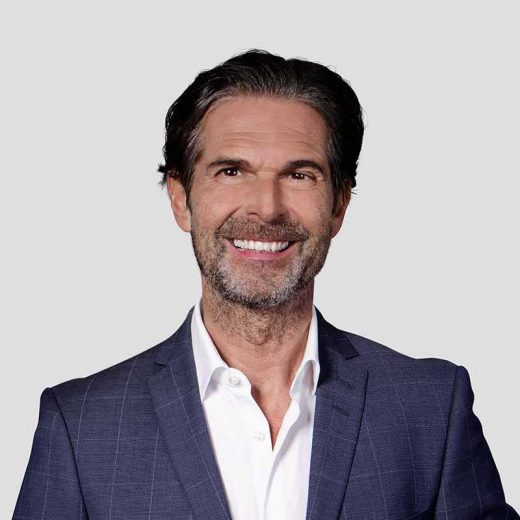 Thomas Pasquale, Managing Partner
I would be happy to answer your questions about the conversion to SAP S/4HANA. What would you like to know?
+49 2241 8845-637