SAP S/4HANA - Business management benefits
Most companies are currently thinking about their S/4HANA Roadmap or are already implementing it. The direct economic benefits that S/4HANA can have are open to many.
The business benefits of SAP S/4HANA
Companies are making the switch to SAP S/4HANA for a variety of reasons. Many see the change as a strategic next step, to improve business processes or to develop new business models.
Other companies, on the other hand, see themselves forced by the discontinuation of SAP Business Suite 7 (and thus of ERP 6.0) by the end of 2027 to consider the question of a switch from the current SAP application landscape to SAP S/4HANA.
What comes second in the considerations of many companies is the increased business added value of an SAP S/4HANA implementation.
According to SAP, the added business value of SAP S/4HANA can even be quantified in figures, for example:
10 to 15 percent less time spent on inventory,
10 to 15 percent lower logistics costs, a 25 to 30 percent shorter
25 to 30 percent shorter manufacturing cycle, or a
10 to 15 percent higher productivity.
The situation is similar when it comes to reducing the total cost of ownership: for example
the storage requirement is 10 times lower due to SAP S/4HANA,
data backup is 10 times faster, and
data throughput 7 times higher.
And with the help of the SAP HANA cloud platform, innovations in the company can also be developed and implemented more quickly - an important advantage in the age of digital transformation.
Better preparation for maximum efficiency
In order to realize the added business value, the first step is to identify the weak points of the previous system.

Experience has shown that the people responsible for the areas are already familiar with the weak points and problems and can describe and prioritize them in concrete terms. Based on these identified weak points, the potential for improvement can be worked out.

In all projects, there is always the question of how high the costs are that result from the weak points: Here, companies must specifically quantify how high the productivity losses are that are caused by inefficient processes.

The next step is to estimate the benefits of the potential improvements. To do this, companies must analyze how high the financial impact would be if the conversion to SAP S/4HANA were to be carried out. S/4HANA conversion projects that have already been carried out can provide direction for this.
Database and Hardware for SAP S/4HANA
SAP S/4HANA runs only on the SAP HANA database because the growth of cloud applications requires a technically simpler and faster underpinning.
The advantage over other competitors is that the SAP HANA platform opens up new ways to address challenges that businesses face today and will face in the future.
Furthermore, SAP HANA supports not only SAP S/4HANA, but also many other application scenarios - from Big Data analytics to new applications for the Internet of Things.
In this context, SAP HANA is a federated database system that can be seamlessly integrated with other databases.
Hardware costs naturally also play a significant role in the implementation of SAP S/4HANA. Many companies are afraid of unbearably high hardware costs that they cannot afford. However, it is important to know that column-based storage can drastically reduce the volume.
In addition, stakeholders should consider whether it makes sense to archive data that can still be accessed via HANA. In this way, the amount of data kept online can be further reduced.
This also brings benefits in terms of data backup by significantly reducing the time required for backup and restore.
Are you interested in switching to SAP S/4HANA? Here you can find out which aspects play a central role in the implementation of SAP S/4HANA.
Database speed advantages under SAP S/4HANA
One of the biggest business benefits of SAP S/4HANA is the manageability of the database layout.
This layout allows for rapid data entry, significant improvements in reporting, and holistic flexibility in reporting on external hierarchies. These hierarchies can be changed without having to modify the database to do so.
The high speed of the database allows completely new processes to be developed. Companies can now use any field in a table as an index, which greatly simplifies processes. In meetings, for example, this allows the current business situation to be presented in real time using data from the system and enhanced by predictive analyses.
This does not involve any new activities for the database administrator. The system is prepared for an expansion of functions and designed to enable new processes in the digital world.
The advantages of SAP S/4HANA for the digital future
With SAP S/4HANA, many benefits can be realized in just one software version: Application areas such as data collection, analytics and forecasting, standard reporting, the digital meeting room or cross-functional customer interaction are brought together on just one platform.
This reduces the total cost of ownership and allows the first steps into a digital future to be taken more quickly.
Until now, for example, it is often still the case in companies that an order is recorded on site at the customer's premises using a corresponding handwritten form.
With SAP S/4HANA, however, an employee can now do this easily with his tablet or smartphone - simply, conveniently and quickly. The order is also immediately in the system and does not have to be "touched" again.
What's more, the employee can still check in the SAP system during order acceptance to see what stocks are in the warehouse or what production dates are scheduled.
Work in the warehouse can also be accelerated considerably by real-time processing. Where planning for material requirements is still done overnight today, it is done immediately with SAP S/4HANA.
A part is being removed from the warehouse? The withdrawal is reported directly to the SAP system via a scan and the stock change can thus be read "in real time". The warehouse data always remains up-to-date.
Last but not least: Real-time collaboration is also possible, especially across company boundaries.
Where previously extensive Excel spreadsheets were filled out by various participants and then sent back and forth, these employees can now work on one and the same document in real time ("real-time collaboration"). This is not only convenient and faster, it also reduces the susceptibility to errors.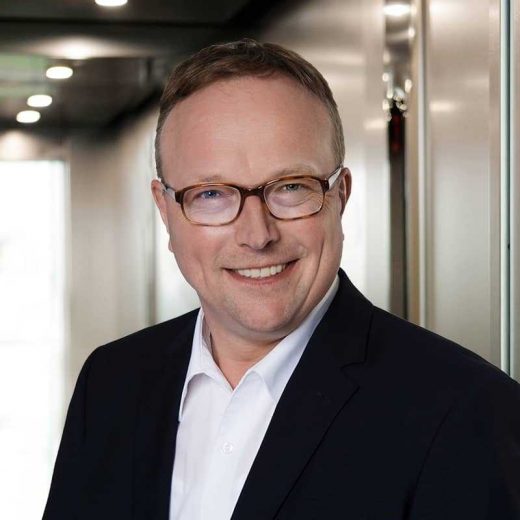 Meinolf Schäfer, Senior Director Sales & Marketing
Do you have any questions? I will be glad to help you.
+49 2241 8845-623
We are your partner for all questions and requirements around SAP. Contact us for a personal conversation.