SAP IS-U, SAP S/4HANA Utilities and SAP C4U
SAP IS-U is the previous SAP solution for the utility industry. With SAP S/4HANA Utilities and SAP C4U, SAP replaces this solution and offers utilities a chance to optimally position themselves for the future.
What is SAP IS-U (SAP Utilities)?
SAP IS-U (SAP Utilities) is a process-oriented application from SAP for the utilities industry, an industrial sector solution from SAP. This solution has been around for more than 20 years.

With SAP IS-U, energy suppliers or other utility companies can control all service and business processes. They can manage master data, monitor networks and also bill services with customers and business partners.

The classic SAP IS-U is a back-end solution and integrated part of SAP ERP, the predecessor system of SAP S/4HANA. SAP will therefore discontinue maintenance for SAP IS-U under SAP ERP at the end of 2027.

The successor to the classic SAP IS-U solution is called SAP S/4HANA Utilities (On-premise). However, this new solution is still frequently referred to in practice and also at SAP as "SAP IS-U".

Furthermore, SAP is already offering the first applications for a new cloud solution for utilities: the SAP C4U (SAP Cloud for Utilities). Development of this SaaS product is expected to be completed by the end of 2021.
Which modules can be linked to SAP IS-U?
The classic SAP IS-U can be linked to various modules under SAP ERP.

SAP IS-U enables integration with SAP CRM (Customer Relationship Management) and SAP BW (Business Warehouse). Service orders or sales of goods are billed via the ERP components Plant Maintenance, Customer Service and Sales. To better manage contracts, modules such as SAP CS or SAP SD can be integrated into SAP IS-U.

SAP IS-U under SAP ERP uses SAP Business Workflow to automatically handle business processes.
What are the functions of SAP IS-U?
According to SAP, the functions of the previous SAP IS-U include
the administration of master data (single-case-independent, single-case-related as well as commercial and technical master data) and, for example, the generation of dates for readings of energy data,
the management of master data such as business partners, contracts or connection objects such as land or buildings,
the management of devices including installation and meter reading,
the billing of electricity, water or gas, waste or even internet services,
the invoicing,
the customer service,
Energy Data Management (IS-U-EDM) for energy quantity balancing or load profile measurement,
the cross-company data exchange (supplier change processes, etc.),
Work Management (IS-U-WM) and
SAP Waste and Recycling (IS-U-WA) as a tool especially for waste management companies.
What is SAP S/4HANA Utilities?
SAP S/4HANA Utilities is SAP's offering for utilities that use SAP S/4HANA or wish to upgrade to the new software suite.

However, the transition between the two solutions SAP IS-U and SAP S/4HANA Utilities has not yet been completed. The transition began in 2016, when SAP began the migration to the HANA database.

The further conversion from classic IS-U under SAP ERP to SAP S/4HANA Utilities is currently being carried out step by step. This means that not all functions of the classic solution are yet available under SAP S/4HANA.

The functions of SAP S/4HANA Utilities are currently being gradually expanded with each new release for SAP S/4HANA. In addition, many functions are also developed directly in SAP S/4HANA.
What functions does SAP S/4HANA Utilities offer?
Utility companies, such as energy or water suppliers, can also use SAP S/4HANA Utilities to manage all business processes in principle:
from project management to
Plant maintenance,
from measurement technology and meter reading
to planning and analysis,
from customer service and marketing to
Billing of services.
It is important to know: New functionalities and innovations are only available today for the SAP S/4HANA variant.

In recent years, various innovations and new features have already been introduced for the on-premise variant - including Release 1511 for Analytics, Release 1610 for Fiori and Release 1909 for Process Simplification.

With Release 2020 (October 2020) in particular, SAP has launched numerous additional functionalities for SAP S/4HANA Utilities, especially in the area of contracting accounting and customer engagement.

Current upcoming innovations include partner enhancements for the SAP Cloud for Energy solution or for digital collaboration with stakeholders, for example in the areas of maintenance and procurement.

According to its own statements, SAP will also be developing the Utilities solution significantly in the direction of new technologies such as machine learning and artificial intelligence in the future. SAP made the first machine learning functions available with the 1909 release in September 2019 (in the area of reading energy data and billing).
How is the utility industry changing?
SAP's goal is the "intelligent" utility company that can develop new business models. In addition, companies should be put in a position to cope with the massive changes in the industry in the best possible way.

These changes include, for example, the deregulation of the energy markets, strongly changing customer requirements or stricter environmental regulations.

Many utilities are currently on the way from being purely "metering-oriented suppliers" and providers of gas, water and electricity to becoming "customer-oriented full-service providers" offering a wide range of services - from e-mobility or smart home solutions to fast data lines for private households or even Industry 4.0.

A modern IT architecture - ideally in the cloud in whole or in part - and flexibly deployable and fast applications are the prerequisites for meeting these challenges.
What is SAP C4U (SAP Cloud for Utilities)?
SAP is also investing massively in cloud solutions for the utilities industry. In fact, the SAP Cloud for Utilities is SAP's largest investment in utilities since the introduction of SAP IS-U in 1998.

The new cloud solution for the utilities industry was first announced in 2018 and since then SAP has been developing the solution in cooperation with specialists from utilities and IT consulting companies.

SAP C4U is scheduled to be available as a native end-to-end solution by the end of 2021. Since it is a SaaS (Software as a Service) application, the solution is operated entirely by SAP.

SAP has already launched most parts of the Cloud for Utilities, for example in the areas of marketing, sales and service. SAP C4U already supports the complete lead-to-cash process for non-commodity services, which can complement existing, local SAP for Utilities systems.

The available cloud solutions can be easily integrated into the existing on-premise utilities systems. The advantages of the cloud can then already be used in such hybrid systems.

On the one hand, hybrid systems thus consist of the on-premise SAP S/4HANA Utilities application (for example, for the meter reading and billing process). The other part consists of various cloud solutions (for example for marketing or customer service) from the SAP Cloud for Utilities portfolio. The SAP Business Technology Platform (BTP) is used for integration and as an interface between both worlds.
Will the SAP Cloud for Utilities replace SAP IS-U?
For SAP, the journey is clearly going in the direction of the cloud ("cloud first"), also in the area of utilities. Nevertheless, SAP will continue to invest in the SAP S/4HANA Utilities on-premise solution. The functional scope of this solution is also set to increase further.

In addition, the functional scope of SAP S/4HANA Utilities and SAP Cloud for Utilities is different - and will continue to be so in the future. The SAP Cloud for Utilities will therefore not completely replace the new SAP IS-U.

The on-premise solution is also tailored under SAP S/4HANA to the traditional business of utilities with commodity goods such as water, electricity and gas. The cloud offering, on the other hand, is designed as an SaaS solution for lean business processes.

A complete switch to the cloud is currently not yet an option for most utilities - especially since a comprehensive, native cloud solution is not yet available.

A hybrid solution is therefore currently the most suitable way for many companies to make their business leaner and more flexible, and thus more competitive, and will probably remain so in the future.

In this way, energy suppliers and other utility companies can take advantage of both the proven SAP IS-U solution under SAP S/4HANA and the new cloud solution.
GAMBIT gladly advises you on the introduction of SAP S/4HANA Utilities
Do you need help implementing SAP S/4HANA Utilities or do you have questions about the SAP C4U? We are happy to advise and support you. Talk to us - we will be happy to clarify with you how you can benefit from a cooperation.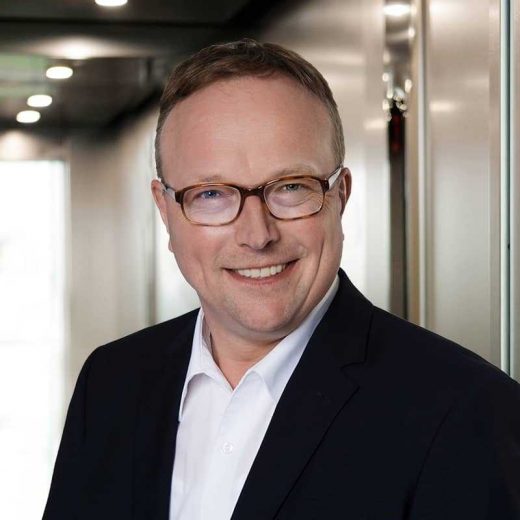 Meinolf Schäfer, Senior Director Sales & Marketing
You are interested, but still have questions? I will be glad to help you.
+49 2241 8845-623