SAP CRM
SAP CRM is a solution for the customer relationship management of companies. In our article we explain the functions for customer relationship management in detail.
What is SAP Customer Relationship Management?
Behind conventional SAP CRM are several tools and methods for the targeted management and design of customer relationships. On this page, you can find out about the individual applications, functions, features and advantages of SAP CRM.
We also discuss the new CRM solutions from the cloud. As part of its "cloud-first strategy", SAP is now also focusing on cloud-based solutions in the area of CRM with SAP C/4HANA.
Today - especially with C/4HANA - it is no longer just a question of the "classic customer contact" of companies with their customers, but has long since also included in-depth analyses, campaign management, mobile clients, the topic of personalization or the integration of social media.
What is the SAP CRM module?
The classic SAP CRM is a part of the SAP Business Suite. It supports companies in numerous customer-related business processes. These include the
Administration of customer data such as name, address and contact details
Solutions for marketing, sales and service and
Extensions for channels like online stores and mobile applications.
The Business Suite is based on SAP NetWeaver, the SAP platform for business applications.

NetWeaver is the development and runtime environment for SAP applications. NetWeaver can also be used to integrate other applications or non-SAP systems with SAP applications.
What is SAP CRM used for?
At its core, SAP CRM is used by companies to stay in touch with customers. It is about finding out what customers want and expect and fulfilling these customer expectations by placing products and services in a targeted manner.
To do this, SAP CRM stores, centralizes, and processes customer data - from how they make contact to their social media preferences. This data can then be analyzed and used to respond more specifically to customer wishes.
In addition, the SAP component helps companies to implement a uniform approach to customers - regardless of the channel through which the customer contacts the company.
This is also known as "one face to the customer", whereby only one employee is the customer contact person.
All in all, SAP CRM ensures a comprehensive view of the customer, which also goes hand in hand with an optimized customer relationship.
How does SAP CRM work?
When people talk about SAP CRM, they usually mean the on-premise component of the Business Suite (for information on other solutions, see the "Other CRM solutions from SAP" section).
From a technical point of view, the classic CRM component is detached from SAP modules such as SD, MM, FI and CO.
The exchange of common data takes place via a middleware. Due to this decoupling, however, SAP CRM is also open to integration with third-party software.
What are the core elements of SAP CRM?
Overall, the logic of SAP CRM is based on three important elements:
Master data (especially business partners)
Customer-related processes
Campaigns
In addition to products and sales structures, an important element in SAP CRM is the so-called business partners. Unlike the classic ERP modules, these do not only consist of debtors (customers). Companies can also manage interested parties, competitors and contact persons.

SAP CRM also goes beyond the standard order management in ERP when it comes to customer-related procedures (processes). The component also offers solutions for the mapping of
Opportunities (chances),
Leads (qualified contacts),
service orders,
Tasks and
Communication processes of all kinds (e.g. e-mail, letter, fax or appointments).
Further transaction types can be defined individually if required.
Campaign management, on the other hand, is responsible for controlling customer-related actions. This includes, for example, advertising flyers and e-mail dispatch. To differentiate these actions, the company can define target groups in SAP CRM in advance.
Good customer relations - the basis for good business.
In which business areas is SAP CRM used?
In principle, SAP CRM is suitable for all business areas that have contact points with customers. This includes in particular sales, marketing and service. Based on these three target groups, SAP has divided its customer relationship management into three core components:
SAP CRM Marketing
SAP CRM Sales
SAP CRM Service
Let us take a closer look at these building blocks in the following.
1. SAP CRM Marketing
SAP CRM provides several functions for marketing. Among other things, the component supports
market research,
marketing planning and budgeting,
the cost planning,
the monitoring of brand awareness and
the management of marketing projects of companies.
It is also possible to simulate campaigns in advance to predict their effectiveness.
It is also possible to set special prices for the duration of campaigns.
Furthermore, potential customers can be identified via integrated analyses. This can be used, for example, to generate lists of customer data for sales support.
2. SAP CRM Sales (CRM Sales)
Sales employees can also be supported in many ways by SAP CRM.
For example, the application helps the sales department to maintain relationships with existing customers, or to win new customers and build customer relationships.
In addition, the software delivers forecasts by feeding in market data, for example. These can be carried out both globally and in relation to specific regions and product groups. This simplifies the planning of activities. At the same time, users can optimize their product availability.
In addition, the sales component of SAP CRM enables the creation of quotations, orders and contracts.
The pricing process is also supported. Sales employees also have access to the current account and receivables details of their customers.
Furthermore, functions for commission accounting as well as time and travel logistics are available in the system.
3. SAP CRM Service
This component supports companies throughout the entire service process - from the response to a customer inquiry to the processing and billing of a service provided.
This area also includes complaints and repair and installation procedures. Maintenance contracts including the associated services can also be managed in the system.
Which additional components are available for SAP CRM?
In addition to the three core components mentioned above, there are some "extensions" for SAP CRM.
They are summarized under the term SAP CRM Channels. Via a user-friendly and intuitive interface, companies can improve communication with customers.
SAP CRM Interaction Center: Functions for tele-sales and telemarketing (call center and customer support)
SAP CRM Web Channel: Functions for building e-service, e-commerce and e-marketing platforms
Mobile applications: Applications for employees in the field for access to relevant customer and product data; also used for mobile recording of orders, sales opportunities, appointments and call logs
SAP CRM Partner Channel Management: Interface for collaboration with resellers, wholesalers, and distributors; including commissions, partner selection, partner training, certifications, and sales forecasts
CRM solutions from SAP for SAP S/4HANA
In addition to the classic on-premise variant for SAP Business Suite, other products for customer relationship management already exist from SAP.
The new CRM on-premise solution is called "SAP S/4HANA for Customer Management" (short: S4CRM). As part of the new SAP S/4HANA product generation, it uses the same database, so that compared to the previous approach, no middleware is required.
CRM tools from SAP are also available in the cloud area - in particular the SAP C/4HANA solution. Due to the high relevance of the cloud for SAP (cloud first strategy), you will find further information on this solution below.
What relevance does the SAP C/4HANA cloud have for customer relationship management?
With C/4HANA, SAP is focusing on optimizing the entire customer experience in addition to customer relationship management. In addition, the e-commerce environment is increasingly supported. The C in C/4HANA stands for Customer and the 4 for a 4th generation CRM system.
Overall, the cloud-based software consists of five interconnected CRM and marketing applications:
SAP Marketing Cloud
SAP Sales Cloud
SAP Commerce Cloud
SAP Service Cloud
SAP Customer Data Cloud
1. SAP Marketing Cloud
SAP Marketing Cloud is an intelligent software for marketing automation. It independently recognizes which products customers want to buy at what time.
Based on this information, employees can then develop omnichannel campaigns that are tailored to the customers' needs. The necessary customer data is brought together from various sources to create a uniform customer view.
Technologies such as Advanced Analytics and Machine Learning are used in this process. Overall, the company gains a much better understanding of customer behavior, moods and intentions.
2. SAP Sales Cloud
This is a mobile tool for sales. It helps salespeople build relevant customer relationships and respond more quickly to sales opportunities. The Sales Dashboard ensures transparency.
Predictive analytics is also used to identify prospective customers and leads and to find "influencers" for the conclusion of ongoing negotiations. In addition, the solution provides all relevant information for sales, such as sales KPIs.
3. SAP Commerce Cloud
SAP Commerce Cloud is an e-commerce application. Its goal is to develop and deliver personalized e-commerce experiences for customers.
To achieve this, the activities of each customer are analyzed. For example, it is possible to show and hide certain elements in an online store based on the customer's search activity.
4. SAP Service Cloud
Customer service is another important CRM element and is therefore also part of SAP C/4HANA. In this context, the SAP Service Cloud provides sales representatives with all relevant functions on a mobile device.
This includes, for example, appointment management, localization of required spare parts, technical documentation, travel routes to the site of operation and travel data entry.
5. SAP Customer Data Cloud
The SAP Customer Data Cloud enables customers to autonomously control and manage their personal data in e-commerce and online applications.
Among other things, the Data Cloud offers a solution to meet the requirements of the EU-DSGVO (basic data protection regulation).
Conclusion: Significant differences between SAP C/4HANA and classic SAP CRM
While conventional SAP CRM and many other CRM systems basically focus on the sales process, SAP C/4HANA places the customer at the center of attention even more than before.
SAP C/4HANA offers solutions for a consistent and positive customer experience - a strategy that is of great importance today.
C/4HANA also relies on trustworthy relationships and secure customer data. On the one hand, this allows extensive knowledge about customers to be generated, while on the other hand ensuring compliance with data protection regulations.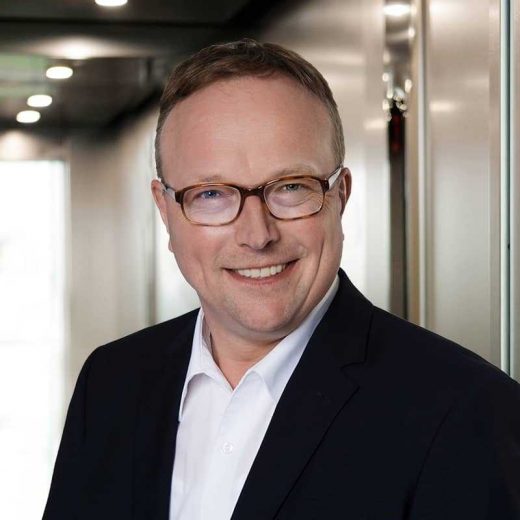 Meinolf Schäfer, Senior Director Sales & Marketing
You are interested, but still have questions? The best thing is to make an appointment by phone today. Please feel free to call me!
+49 2241 8845-623