SAP ERP
On this page you can read which ERP systems are offered by SAP and for which core processes and company size they are suitable. You will also receive information about the deployment models.
SAP's ERP solutions have been in use for decades. They span all core processes required to run companies and integrate them into a central system.

The latest products from the leading software provider create efficiency and transparency in all areas. The latest technologies now greatly simplify the flow of real-time data, enabling every department to control its activities immediately and with data support.
What does ERP mean?
Companies usually accomplish this task with the help of software solutions. These solutions are called ERP systems. The abbreviation ERP stands for "Enterprise Resource Planning".
This describes the entrepreneurial task of planning and controlling the resources of a company (personnel, procurement, finance, etc.) as efficiently as possible.
To this end, ERP solutions consist of individual applications that are geared to the central business areas - for example, to finance (SAP FI/CO) or sales (SAP SD). With SAP ECC 6.0 (SAP ERP), these applications are called modules; with SAP S/4HANA, they are now called lines of business.
The advantage of ERP systems is the high degree of integration: The applications use a common database and communicate with each other. This means that the individual areas do not use different, stand-alone solutions ("island systems"); instead, the ERP system combines the various applications into an overall system.
Everything that needs to be planned and controlled in a company can thus be mapped end-to-end - from ordering materials to invoicing and delivering a product. If, for example, a product is sold, the corresponding data is not only adjusted and updated in the SAP SD module, but also in all components - so it remains clear and always up to date.
What ERP systems are available?
ERP systems can be divided into categories based on several criteria. For example, they can differ in terms of the technology used (programming language, operating system, database).
Another variant is the distinction between open source ERP and closed source software (also proprietary software). In open source software, the source code is freely accessible, so that it can be modified by any developer. In the case of closed source software, which also includes SAP, the source code is protected.
In addition, a subdivision according to target industries is possible. For example, in addition to universal ERP systems, there are also industry solutions for industry, commerce and the service sector.
One of the most important distinguishing features today is also the deployment model. The following characteristics are worth mentioning here:
ERP in the Cloud
On-premise ERP
Hybrid ERP
ERP in the Cloud
Despite some reservations on the part of German companies, the trend in the ERP environment is clearly moving in the direction of the cloud. We are also talking about software as a service, or SaaS for short. In the classic case, the ERP software is not hosted, operated, maintained and updated in the company's own data center, but in one of the provider's data centers.
The costs are usually paid in the form of a (monthly) lease, which covers all these services. The big advantage is that there is no need to invest heavily in your own IT infrastructure (e.g. servers and rooms). In addition, no specialized IT personnel need to be kept on hand to operate and support the ERP system.
A cloud ERP system such as SAP S/4HANA Cloud usually takes into account current requirements such as scalability, flexibility, mobile working and cross-company collaboration to a particular extent through its architecture.
On-premise ERP
On-premise ERP is the classic licensing and usage model for enterprise resource planning. In this case, the software is installed and operated locally, i.e. on the user company's own servers. This has the advantage that the data remains within the company, which plays a role in the case of pronounced data protection concerns or risks.
For an on-premise ERP, licenses must be purchased, the price of which often depends on the number of users and the range of functions. Due to the high initial investment, the on-premise variant of ERP systems is aimed more at large companies. However, the customizability is often also higher than with cloud products.
Hybrid ERP
More and more decision-makers want to benefit from the advantages of the cloud, but still prefer to keep critical data on their own servers. Other companies, on the other hand, would like to move to the cloud step by step. In both cases, hybrid environments represent a compromise.
The hybrid cloud is characterized by sensitive data being stored in a private cloud environment with restricted access. All other applications and data reside in the public cloud. Depending on the software, however, the core application can also be operated in-house. Any additional components required are then added from the cloud.

SAP ERP systems for companies of different sizes
SAP ERP systems were once used almost exclusively in large companies and corporations due to their complexity and pricing. In the meantime, however, the orientation of the Walldorf-based software provider has changed. The portfolio now includes solutions for companies of all sizes:
SAP products for smaller companies: SAP Business One
SAP products for midsize companies: SAP S/4HANA Cloud, SAP S/4HANA, SAP Business ByDesign and SAP Business One.
SAP products for large enterprises: SAP S/4HANA Cloud, SAP S/4HANA (SAP ERP with accrued maintenance until the end of 2027).
SAP ERP software for small businesses
There are several variants of the SAP ERP software available for medium-sized companies. SAP Business One can also be used here. SAP Business ByDesign is also a possible option.
The latest SAP ERP generation is also available: SAP S/4HANA or the SaaS variant SAP S/4HANA Cloud. At its core, SAP S/4HANA has a comparable range of functions to the classic SAP ERP. However, the data model has been simplified considerably.

SAP Business ByDesign

SAP Business ByDesign can be described as a middle ground between the "flagship" SAP S/4HANA and the comparatively lean SAP Business One. The target group is on the one hand the midmarket, and on the other hand corporations that want to integrate subsidiaries or branches into their existing SAP landscape.
Unlike other solutions for SMEs, SAP Business ByDesign is offered exclusively as software as a service in a cloud rental model. All functions are provided via the Internet. Access is optionally via browser or also mobile with the aid of a tablet and smartphone.
SAP Business ByDesign also uses in-memory technology for access to current databases in real time. Integrated analysis functions are also available. Important modules and their advantages are:
Finance: Core processes in accounting, controlling liquidity and cash flow, real-time analyses
Customer relationship management (CRM): integration of front and back office processes, control of all processes in marketing, service and sales
Human Resources (HR): Organization and personnel management, employee self services such as time recording
project management
Procurement: Purchasing and contract management including strategic purchasing, quotation processing and supplier control
(SCM): Value Chain Integration, Cost Transparency, Real-Time Inventory Valuation
SAP ERP software for large enterprises and corporations
The SAP ERP Central Component (SAP ECC or SAP ERP for short) and, above all, SAP S/4HANA solutions are aimed at large companies and corporations.

Important: SAP will completely discontinue support for SAP ECC by the end of 2027. For user companies, this means that they will have to switch to SAP S/4HANA by that date.
What is SAP ECC?
SAP ECC, which is still used in many companies, is a classic on-premises system for enterprise resource planning. It is often referred to simply as SAP ERP. The central task of SAP ECC, as with any other ERP system, is to bring together data from all areas of the company. This creates a unified view of resources that enables managers to make data-driven decisions to optimize business processes.

SAP sold its ERP system under the name SAP R/3 until 2003, then as mySAP ERP until 2007. Unlike SAP R/3, SAP ECC is based on NetWeaver, a platform for business applications.

SAP ECC is supplemented by a range of other products, such as SAP CRM (customer relationship management), SAP SCM (supply chain management), and special industry solutions. SAP groups these offerings under the umbrella term "SAP Business Suite".

The successor to SAP ECC is SAP S/4HANA. This new version has been available since 2015.

SAP uses the term module (SAP S/4HANA: Lines of Buiness) to describe parts of the program that were developed to map business processes in areas such as accounting, sales, or materials management.

All components are directly linked to each other so that departments can work together smoothly and on the basis of shared data. In total, SAP ECC consists of ten functional components (modules).
Which components does SAP ECC contain?
SAP ERP (ECC 6.0) can be used to map the business processes of various industries. The most frequently used modules or components include FI (Financial Accounting), CO (Controlling), MM (Materials Management) and SD (Sales and Distribution). However, companies decide for themselves which of the existing components they want to use. For example, it is also possible to leave function modules such as PS (Project System) unused. Let's now take a closer look at the most common components and their most important features.
FI (Financial Accounting)
The FI component is responsible for entering all financial transactions in the company. This also includes accounts receivable and accounts payable accounting. Both receivables and payables as well as cash and bank transactions are managed here.
CO (Cost Accounting, Controlling)
Cost Center Accounting, Profit Center Accounting and Financial Planning take place in CO. Controlling is also supported by internal orders. Manufacturing companies also use product cost accounting, which compares actual costs with simulated costs.
SD (Sales, Sales and Distribution)
The Sales component is responsible for controlling all sales processes. This includes direct sales to national and international customers as well as sales via distribution networks. Other important functional areas of SD are billing, returns management and credit allocation.
MM (Materials Management)
The MM component covers the areas of procurement and inventory management. In Inventory Management, the module is responsible for goods receipts, goods issues and stock transfers of material. Inventory counts and reconciliations are also carried out in MM.
PP (production planning and control, production planning and control)
PP supports companies in coordinating requirements and production capacities. This results in optimised planning for production, sales and distribution. Production planning and control from SAP can be used both in individual production and in process and series production.
QM (Quality Management)
The QM component of SAP ERP extends far into the processes of production, sales, procurement and maintenance. It allows the management of external and internal business processes, analyses of quality problems and continuous quality improvement.
PM (Plant Maintenance)
The aim of PM is to ensure that plants, machines and premises are ready for operation. For this purpose, the component monitors the relevant objects and warns in the event of malfunctions. Plant Maintenance covers processes such as maintenance, repair and inspection.
CS (Customer Service)
Maintenance services for customer plants are managed in the customer service module of SAP ERP. In addition, services rendered will be invoiced via CS.
PS (Project System)
PS supports the management of large, complex projects. This can be, for example, the construction of new production facilities. For this purpose, the component bundles all project-related procurements or productions. This ensures the correct allocation of costs to a project. In addition, this allows the project budget to be monitored.
HCM (Human Resources, Human Capital Management)
In HCM, personnel master data is managed, payroll accounting is created and working times are managed. In addition, functions are available for personnel development, business trip management and occupational safety.
Technical Components of SAP ECC
Finally, SAP ECC has two technical components that must be implemented: ABAP and NetWeaver.
The ABAP programming language is used, among other things, to create individual reports and develop applications in the SAP environment.
NetWeaver, on the other hand, is the development and runtime environment for SAP applications. The platform also serves to integrate databases and business processes.
Is there a difference between ERP and ECC?
ERP stands for Enterprise Resource Planning. There are numerous providers that offer ERP software - that is, software that can be used to plan and control the workflows and processes in a company.
SAP ERP Central Component 6.0 (SAP ECC 6.0 for short) is ERP software from SAP that has been available since 2004. SAP ECC is often also referred to as "SAP ERP". The successor to SAP ECC is SAP S/4HANA (available since 2015).
On which host operating systems does SAP ECC run?
There are several platforms that support SAP NetWeaver: Linux, AIX, HP-UX, Solaris, Windows NT, IBM OS/400 and IBM z/OS. At Linux Lab, SAP employees, resellers and vendors have been working on making SAP products for Linux for two decades.
Linux is the operating system for SAP HANA. This means that customers who previously used a Windows, Oracle or UNIX database under SAP ECC must therefore not only convert their database to HANA, but also their operating system to Linux.
How is the architecture of SAP ECC structured?
SAP ECC is based on a client-server model that is structured in three parts ("three-tier"): first, a database (for storing data), second, an application server (in which data is processed by programs), and third, a graphical user interface (SAP GUI). SAP ECC is modular with its modules. However, the modules are only separated from each other in terms of content, not architecture.
Which industry solutions are available under SAP ERP?
Various industry solutions are available for SAP ECC - that is, solutions that are specifically tailored to the requirements of certain industries. SAP users can activate most industry solutions by using Industry Business Function Sets. This allows the entire SAP ERP system to be adapted to the requirements of the industry in question.
There are different types of industry solutions: industry solutions available as business function sets, industry solutions delivered as Central Component, and industry solutions as Enterprise Extension, Enterprise Business Functions or Add-on. Among others, industry solutions are available for the automotive industry (IS-A), for the banking sector (IS-Banking, for the healthcare sector (IS-H) or for the media sector (IS-M).
What is an enhancement package in SAP ECC (SAP ERP)?
Enhancement packages allow SAP ECC to be functionally extended. SAP first introduced these enhancement packages with SAP ECC. With the Enhancement Packages, SAP offers new functions, innovations and improvements for SAP ECC. In addition, users have access to the general maintenance packages (Support Packages). The latest enhancement package for SAP ECC 6.0 is version EHP8 from 2016.
What business functions are available in SAP ERP?
With each enhancement package, new functions are available to SAP users. SAP calls these functions "business functions." They can be specifically activated with the help of transaction SFW5.
There are different types of business functions:
Enterprise Functions (activation of specific applications and business processes),
Enterprise Business Functions (activation of developments that are available with the enhancement packages) and
Industry Business Functions (functions that belong to the industry enhancements introduced with SAP ECC, as well as new developments from the enhancement packages).
The business functions are grouped into "business function sets". These sets are available for most industry solutions.

When will maintenance for SAP ECC be discontinued?
Mainstream maintenance of SAP ERP Central Component 6.0 (SAP ECC) is guaranteed until the end of 2027 at no additional cost. In addition, SAP still offers its customers - for higher fees - extended maintenance until 2030. For SAP S/4HANA, SAP has promised maintenance until at least 2040.
In detail, the maintenance commitment relates to all core applications of Business Suite 7, which also includes SAP ECC. In addition to this ERP solution, Business Suite 7 includes SAP Customer Relationship Management 7.0, SAP Supply Chain Management 7.0, SAP Supplier Relationship Management 7.0 and SAP Business Suite powered by SAP HANA.
The current ERP software suite - SAP S/4HANA.
In contrast to previously available technologies, SAP S/4HANA uses in-memory databases and thus creates the basis for the digitization of companies. In-memory technology makes it possible to analyze large amounts of data in a matter of seconds.
SAP has also taken a significant step forward in terms of data integration with its latest ERP system. For example, SAP S/4HANA now allows different formats such as image, video and text to be integrated without having to transfer the data to SAP.
As part of the new product generation, SAP Fiori provides personalizable, role-based interfaces previously only known from the consumer world. Switching to systems such as a business warehouse or manual steps outside the SAP system are no longer necessary to create individual reports.
It can therefore be stated that SAP S/4HANA clearly focuses on factors such as personalization and intuitive operation. In addition, the system creates the technological prerequisites for the analysis of large data volumes (Big Data), the connection of Internet-of-Things objects, and cross-company networking.
The key functions and benefits at a glance:
Digitalization of financial processes, real-time analyses of financial results
Digitization of the logistics chain
Machine learning to optimize production, logistics, asset management and supplier management
Efficient management of the entire product lifecycle across company boundaries
Company-wide transparency gain
Meaningful data for sales, service and marketing for more proactive work
Numerous industry solutions available
SAP S/4HANA can be operated as an on-premise installation and via a public cloud. Here, the content, localization, functionality and support is the same as SAP Business Suite.
Since 2017, the software has also been offered as a cloud solution under the name SAP S/4HANA Cloud. In this variant, SAP takes over the operation and updating of the system. The core functions of SAP S/4HANA and SAP S/4HANA Cloud are comparable.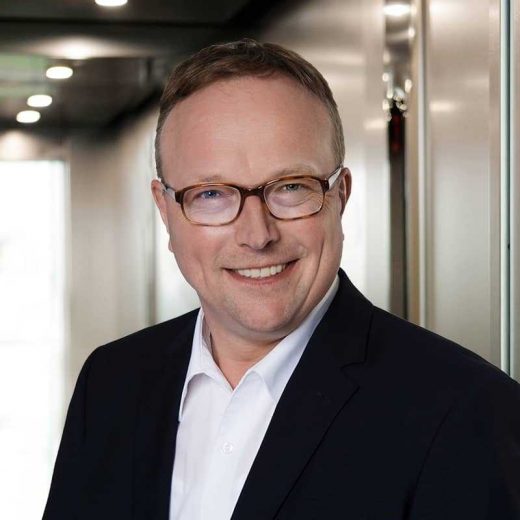 Meinolf Schäfer, Senior Director Sales & Marketing
Do you have any questions? I am happy to help.
+49 2241 8845-623
We are your partner for all questions and requirements around SAP. Contact us for a personal conversation.